I spent 6 weeks living and volunteering in San Marcos La Laguna, one of the popular towns around Lake Atitlan, Guatemala. Of course you don't need to spend so long there, but I think it's definitely worth a visit for anyone headed to Atitlan. Here are my 6 favorite things about this lake town.
Alleyways
My absolute favorite thing about San Marcos is its size. Most of the avenues of getting around are definitely not big enough for vehicles, so there's lots of narrow alleyways and dirt paths to meander down. Aside from the aesthetics, another practical reason I love this is the air quality feels so much better than other lakeside towns. No exhaust. Lots of trees and flowers. Just don't be those people standing in the middle without a care in the world (or for your fellow humans trying to get somewhere). Those people suck.
Swimming
The lake is beautiful, but not all the towns have good places to swim from. San Marcos may have the best swimming spot on the lake. A wee peninsula is a protected area with no buildings, commerce, or boats and large rocks. The rocks are perfect for launching into the crisp waters without sand and algae getting in your business. It does get cool at night, so I thought midday was a better time to swim. It's warmed up a bit by then and the water is more refreshing than bracing. You do you though!
If you decide to jump of the "trampolin" that is a big attraction for San Marcos, be careful. It's a big jump anyway, and sometimes the water level is lower than average. When I did it I kind of messed up my neck on the second jump. It was very stiff and painful for days, I even paid for a massage that wasn't really in the budget to try and relieve the discomfort. I'm still glad we did it, because it was exhilarating. Just be careful. And maybe only jump once.
Pups
I wish all street dogs had homes, but if they can't have a home they might as well have San Marcos. Most (not all, it is reality) seemed reasonably well fed. This is either because of tourists falling for the puppy eyes (me) or most establishments pseudo-adopting one or two to eat scraps and play half-hearted guard dog. They were almost all polite and fun to meet.
Yoga
Any quick search will let you know that San Marcos is a sort of spiritual mecca. As soon as you step off the boat you'll see hippie-types selling crystals and flyers advertising lots of things involving chakras, yoga, meditation, various healing methods, drum circles, and organic-vegan-local whatever. I didn't dive super deep into this culture because 1) We had work to do, 2) It can get expensive, and 3) It's not entirely my thing. But I DO love me some yoga classes with an instructor that can help me go beyond what I would think to do in my home practice. I didn't go as often as I would have liked (budget and all), but I loved having the options.
Murals
Murals are everywhere around Atitlan, but due to the above-mentioned culture the ones in San Marcos seem to be especially…trippy? They're everywhere, and walking around the different alleys and neighborhoods to find them is a great way to spend an afternoon.
Location
In my opinion, San Marcos is a perfect place to base for exploring Atitlan at large. It's very close to San Pedro and San Juan. Pedro has a good volcano to hike and more of a party scene, while Juan has some of the most Mayan owned business and tours on the lake. It's also quite close to Jaibalito and Tzununa, which are good places for hiking. Panajachel, on of the biggest and most popular towns on the lake is a bit farther away, but still an easy boat ride for a day of shopping.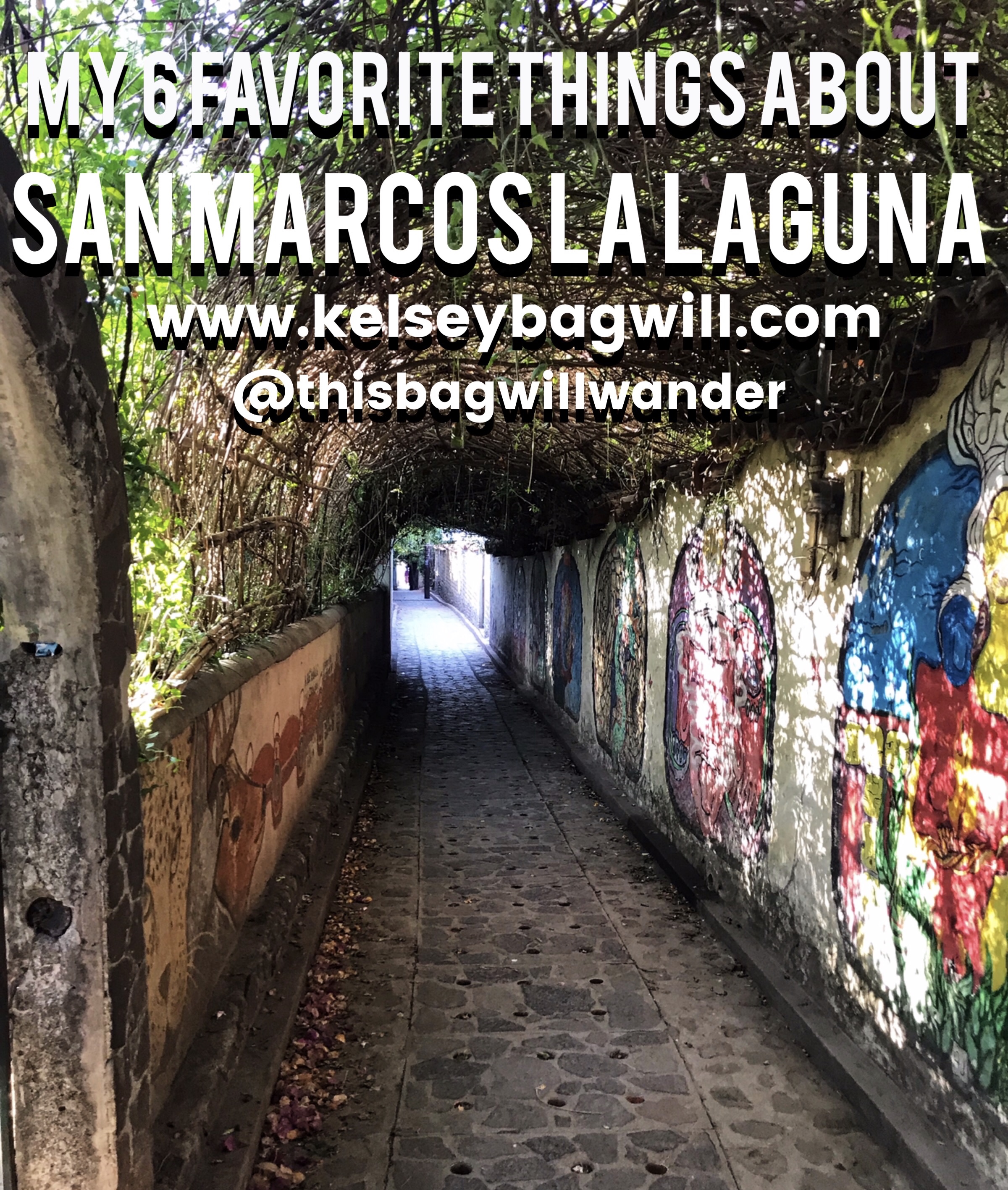 Let others know not to miss this special place!